For me this review was a long time in the making. Since I officially started wet shaving a little over two years ago, I have always had an eye on a stainless steel safety razor. The idea of owning a hunk of steel, that would last not only my life time but likely the life time of future generations. A stainless steel razor (or two...) represents a certain quality and sophistication in your shave. I recently raised my level and purchased a Weber polished head razor with a bulldog handle.
Originally I had my eyes set on a Feather AS-D2 (my first DE was actually a Feather Popular because of the stainless steel TTO design and low price point). However the more reviews I read combined with my increasing comfort of a 6 on my Gillette slim adjustable, I decided an AS-D2 would not only be expensive, but would likely provide too mild of a shave for my taste.
Currently there are not many makers of double edge safety razors. I discovered Weber Razor through /r/wicked_edge. The idea of a U.S.A. made razor that was 100% stainless steel (some people sell steel handles with zamak heads) really appealed to me. Most modern razors are brass handles with zamak heads. Fatip being an exception with their all brass open comb razors. On top of that, Webers are the most affordable stainless steel razor out there!
The only problem I had to surpass was the availability. The razors are made in batches and quality control is clearly important to them. Once I had the itch, it took several weeks before the razors were in stock once again. I grabbed one with in a few hours of the site showing they were in stock and awaited my razor.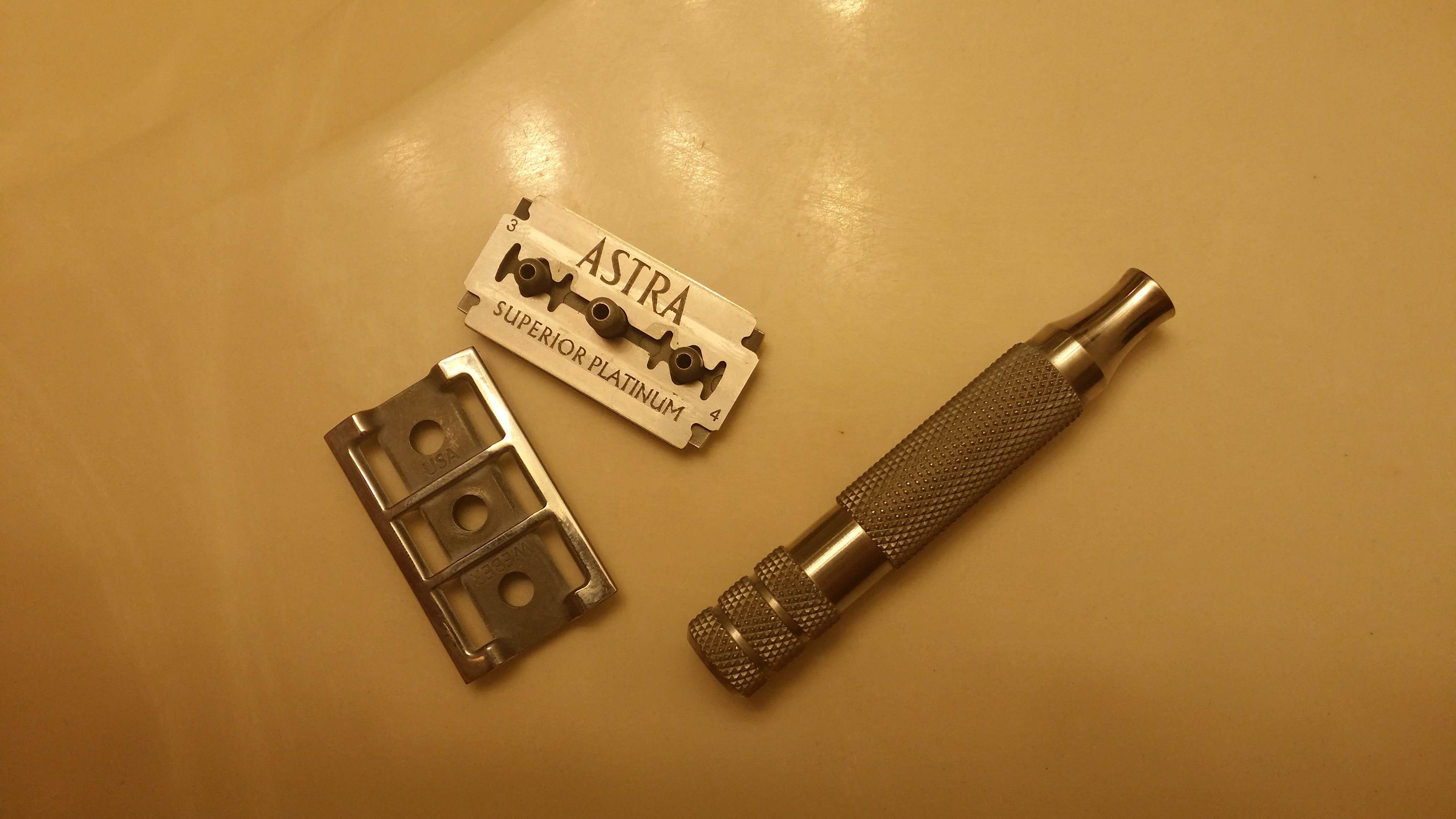 The shipping was quite fast and the packaging adequate. More importantly though, was how good looking this razor is. The heft just adds to the feel of quality.
It took me the next few weeks to settle on a blade (Astra SP still my favorite blades). In addition, I just got in a batch of Stirling soap samples. It took me a while, and a few crucial YouTube videos to figure out how to get a great consistent lather with the Stirling soaps but the payback is well worth it. I love some of the scents and the lather is so rich and slick I don't need a preshave.
The last two things I had to conquer with this razor was this pressure and angle. I find this razor has quite a forgiving range of angles which is great. Because of this, I feel I am able to adjust the angle to be slightly less aggressive for my later passes. The pressure however was tricky. Coming in at ~90 grams, this is the most heavy razor I own by a solid 20 grams more than my next heaviest Gillette slim adjustable. Once I grasped how little pressure I truly should be using with this razor, I started getting DFS every time with no irritation or razor burn.
I am not 100% sold on the bulldog handle however. I feel it could be a tad longer but I have no idea how that would affect the balance exactly. I tried to acquire the Weber classic handle in a trade on /r/shave_bazaar however that deal fell through. Hopefully I will have this handle (and the wave if they bring it back) in the future to be able to do a better comparison and understand how the balance affects the shave better.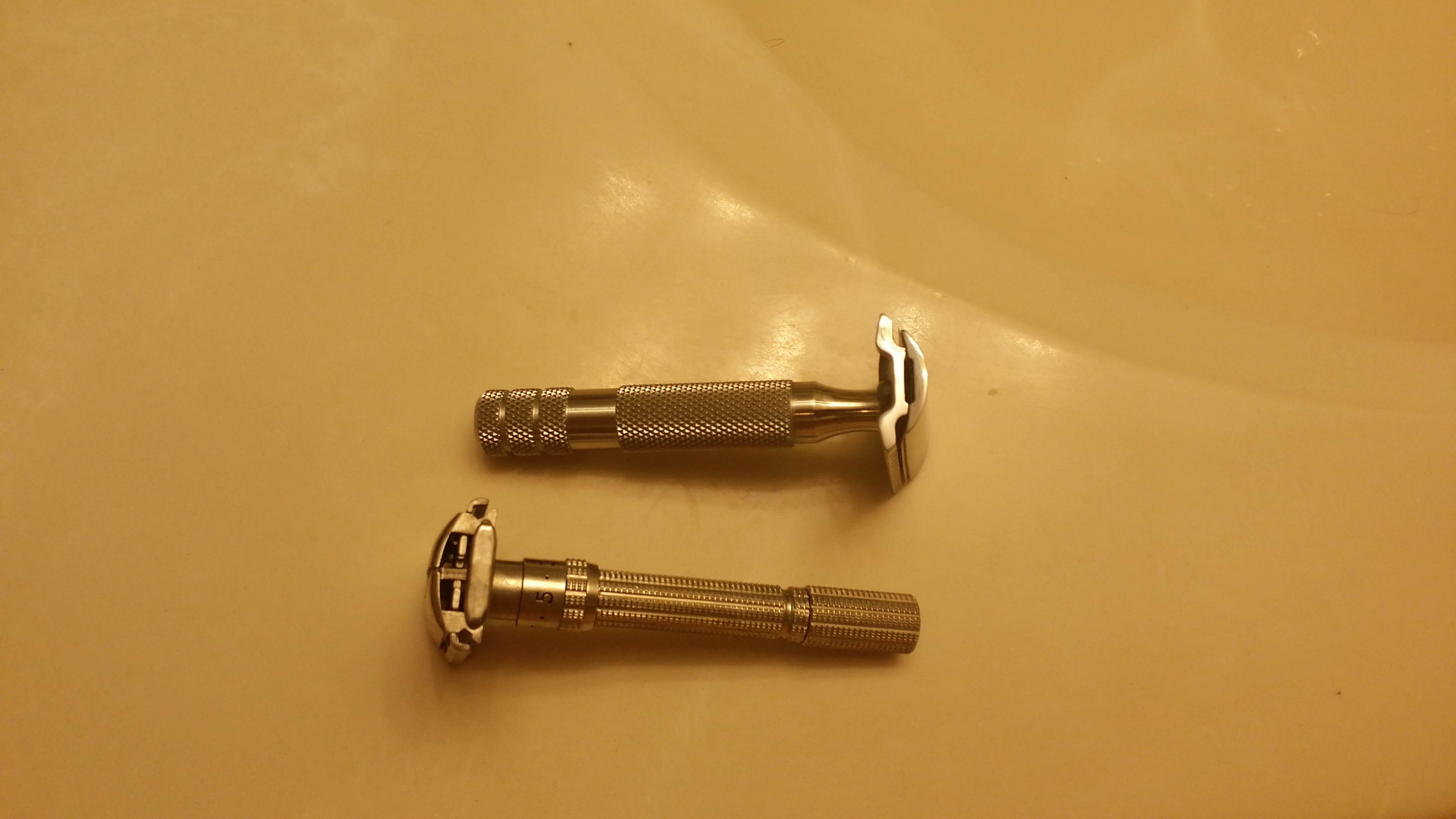 For now, though I will continue to enjoy my Weber as it has hardly my hands since I started shaving with it.
Equipment
---
Razor Weber PH - Bulldog handle Brush 23mm Muhle Synthetic (Gen 4) Soap Stirling's Scots Pine Blade Astra Superior Platinum After Sterling's Ben Franklin
---
The Shave(s)
I don't want to focus on the shaves I had while still learning this razor. Rather, I want to focus on the shaves once I had begun to master it. Changing equipment requires adjustments. Brushes are pretty trivial to make adjustments for where as razors require more attention to detail.
The shaves with this razor are simply phenomenal. I have settled on a two and a half pass routine. First pass is WTG all the way. This pass for me is the most critical to ensure I can even do further passes. Once I finish with the first pass, the Stirling soap leaves a wonderful slickness on my face.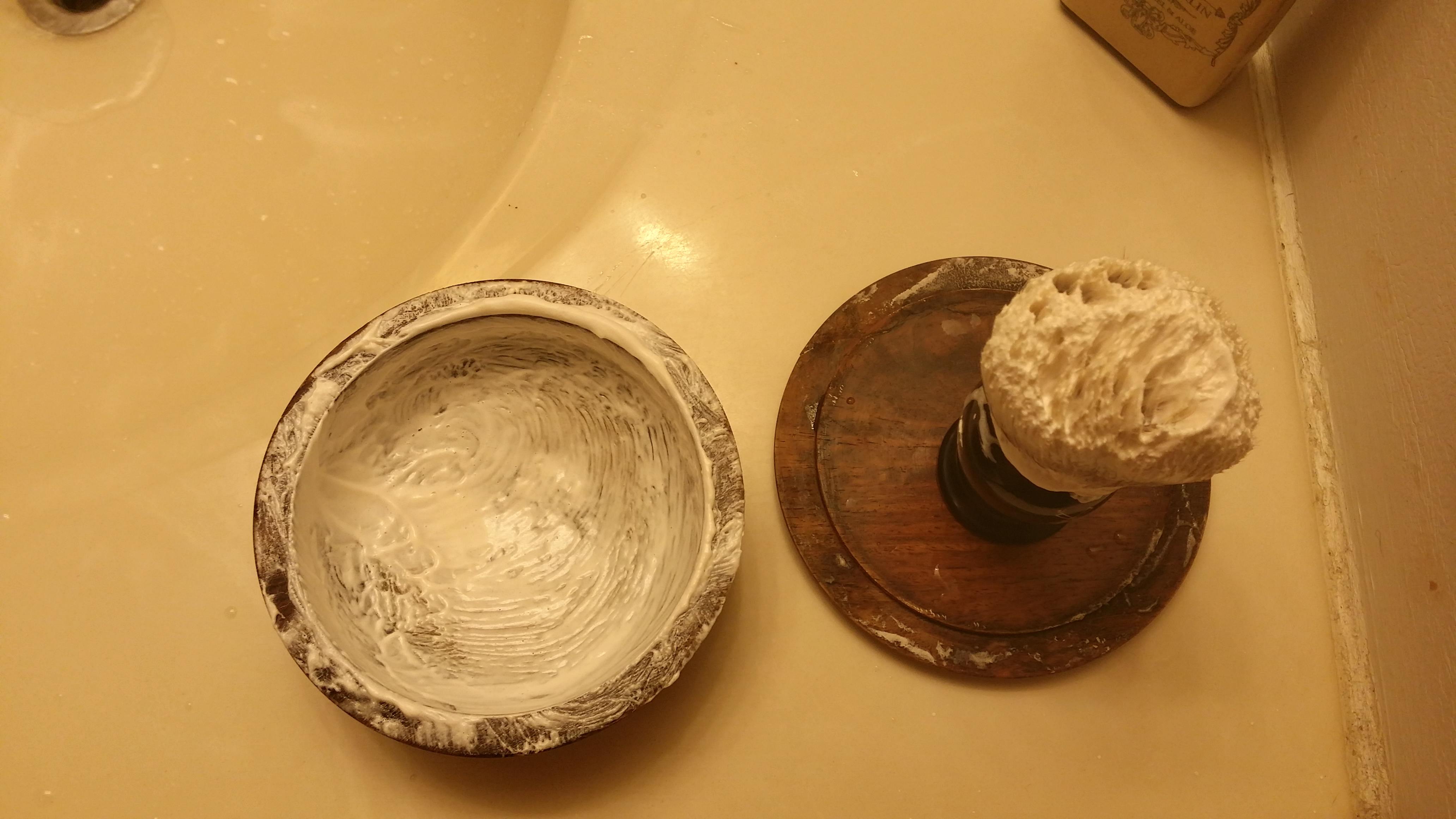 Using this slickness I lather up a second time. This time there is a little more water in the lather causing the razor to glide effortlessly yet plenty of cushion to keep the blade from scraping. This pass I do XTG. Starting from my sideburns in, on my cheeks and offset downward angles on my neck and chin. For my lips I just do a second WTG pass.
Finally I rinse again, and then apply as much of the remaining lather as possible. This pass I want the extra cushion to prevent any razor burn. This pass is also an XTG pass however this time I only do my cheeks and chin. No lips and no neck as I can't seem to eek out a third pass with out some nicks or at least some burn. This time I go from my mouth to by ears.
I finish with a hot water rinse and a cold water splash. After a light towel off I apply some Ben Franklin after shave which has a strong vanilla note and a light spice finish.
Results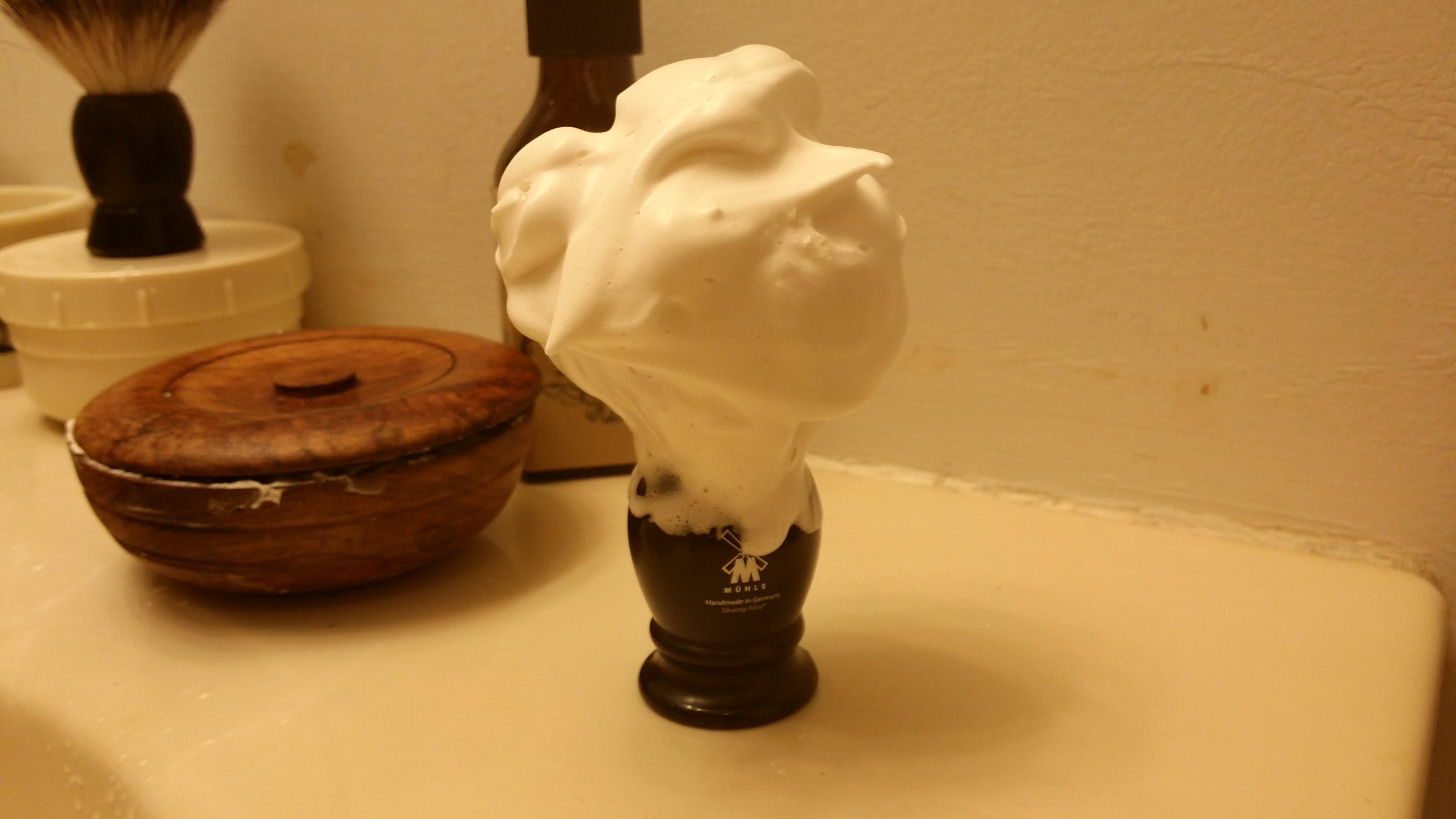 The results are a DFS every time. Best part about it is the efficiency and closeness of this razor. After a 2.5 pass shave, my cheeks are smooth for 12+ hours. I almost don't need to shave the second day. At least not more than one pass, it's unreal.
I have trouble not touching my face some times because of how smooth my skin is. However not all of it is a result of the razor.
Some of the thanks belongs to the aftershave. Stirling Soap Co.'s witch-hazel aloe splashes are amazing. They leave my skin feeling great every time. Many good and creative scents for very low prices compared to some other vendors.
Something else I like about the Stirling soaps and aftershaves is that the smell does not linger too long. Some times the classic OldSpice scent can stick around well longer than 8 hours. Some times it's just too much. Stirling strikes a great balance however and I look forward to using more of their products.
Grade (out of 5)
Looks: 3.9
Weight: 4.5
Balance: 5.0
Aggressive: 4.0
Handling: 4.0