I recently decided to try some new soaps on a whim and one of the ones I ordered was Catie's Bubbles Le Gardenia de L'Étalon (the gardenia of stallion). I chose this scent because when I was growing up in South Florida, there were several bushes scattered throughout my neighborhood and when they were in bloom you could smell them from a few houses down. The scents has become one of my favorites over time and I often find myself choosing it for candles and the like.
I had not had the best experiences with vegan based soaps however I was willing to try another to see if I could find something that really did work well for me. I had not done much research on the company or their products prior to purchasing so I was really just hoping that I could get a decent lather.
Not only was I really please when it arrived to realize that it was a full 8oz but the smell was far better than I was expecting. My hopes had been set high on first whiff.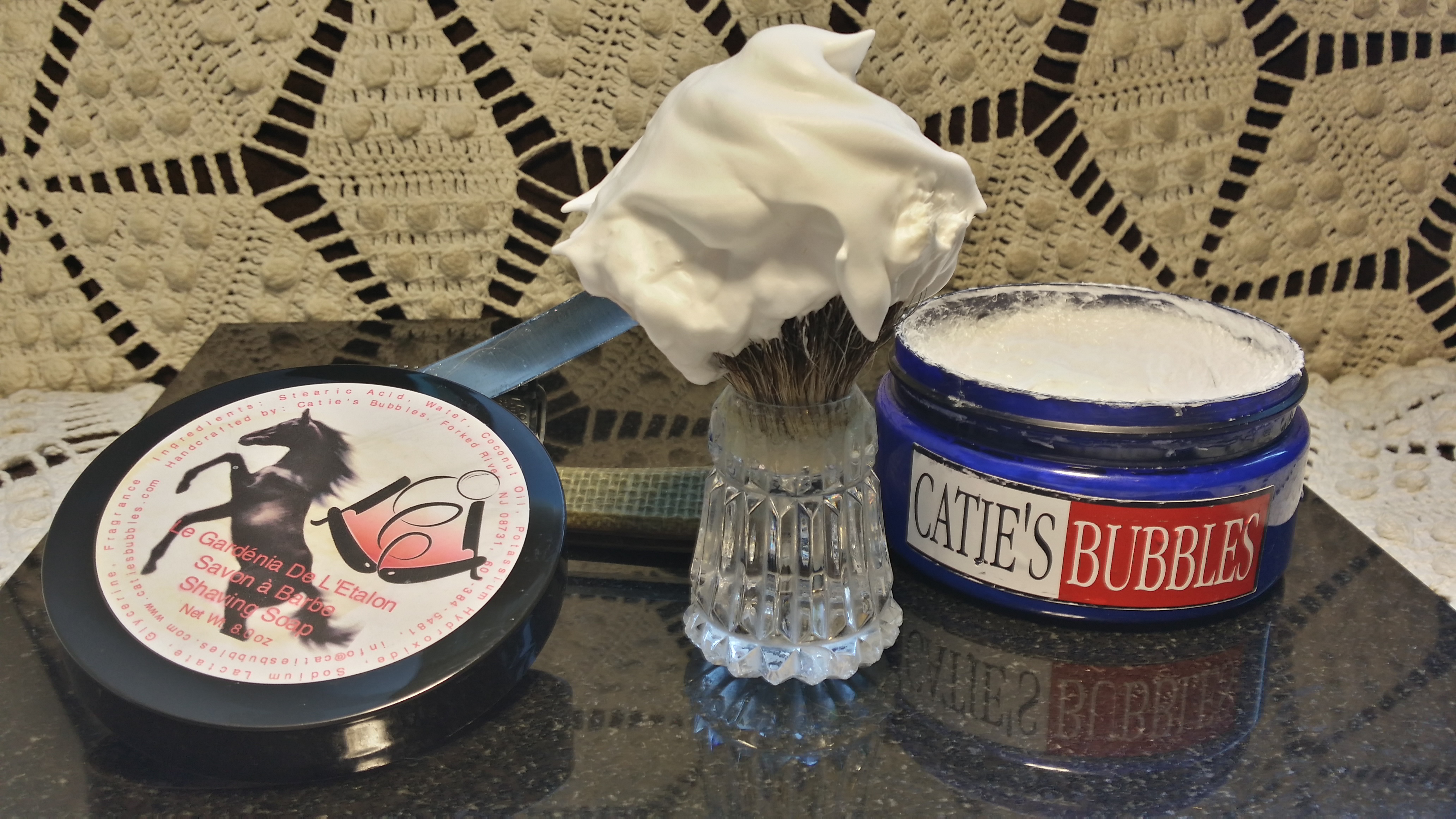 Scent
The scent is of fresh blooming gardenia flowers. While it is strong, I would not call it overpowering. It fill my bathroom as soon as I start to lather it. Letting the smell linger on my nose with each whiff I can really smell the fresh pedals of the flowers.
Since I tend to face lather, I have plenty of time to appreciate the softer notes. Almost like hints of vanilla or honeysuckle. The scent is strong enough to stick around throughout the shave. Re-lathering each pass causes the scent to really come alive again.
The smell does not really linger much post shave on my face, however the scent does linger in the room for a few minutes.
Lather
This was the first vegan soap that I have tried and really been impressed not only with the quality of the later but with how easy it was to lather with a variety of brush sizes and types.
I often find too many soaps lather well, with enough effort. This is not one of those soaps in my opinion.
The soft French style soap is almost like a cream. It loads very easily and has quite a decent range of water it can take. The lather can be very sticky if you skimp on the water however.
It took me about three days to dial in the water level. Each time I realized I was likely over-loading my brush with soap due to my experience with other vegan soaps.
When I dialed everything in, the shaves were fantastic regardless of the razor I chose. I demand quite a bit of cushion out of my razors as enough glide not to stick. This lather delivered better than I expected in both categories.
Post Shave
The aftershave feel is where I could tell it was a vegan soap. Tallow based soaps leave my skin feeling moisturized, almost like I used lotion.
Le Gardenia leaves my skin feeling fine. Not dry, not really supple either. I use some aftershave regardless so long as a soap does not leave my skin thirsty then I am happy.
I would certainly recommend this soap to those who enjoy gardenia or floral scents.
Grade (out of 5)
Scent: 5.0
Weight: 5.0
Cushion: 4.2
Glide: 3.8
Post: 3.5